Today was a big day in Singapore. We started out by heading to China Town in the morning. Our friend had given us their old MRT cards called the Ez-Link. They do have a tourist pass that costs $30 for unlimited travel for 3 days however unless you are going to make more than 5 trips a day it is not worth it.
We looked though the markets on Pagoda St and then went to the Sri Mariamman Temple. They charge $3 to take photos. We then walked down to the Buddha Tooth Relic Temple. The temple is well looked after and very large. There is free entry and you can take photos. Behind the temple is the wet market and a hawker centre. We did not eat here however it is interesting to walk through the wet market and look at the food. Across the road from the Buddha Temple is the Maxwell Road Hawker centre. There is a chicken rice shop that is very busy.
We walked back through the markets and purchased a couple of souvenirs and then by this stage we were quite tired from walking in the heat so we went back to our hotel which was the Holiday Inn Orchard. The hotel is in a great position close to Orchard street and a short walk to the MRT. There are plenty of food shops close by.
A friend of ours told us that Mellben Seafood was the best place to get crabs. We decided to go here for dinner while on our way to the night zoo. It is a bit out of the way however it is not hard to get to. We just needed to catch the MRT and then a bus. We got here fairly early and there was already a line. We had to wait about 30 minutes which was not to bad. They charge 5% extra for sitting in aircon however this was well worth it. The crabs were large and very full of meat. We did not see any other tourists here and all appeared to be locals.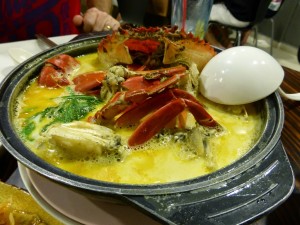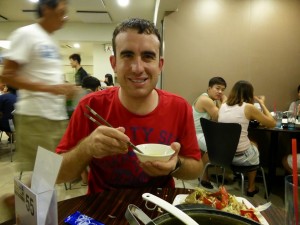 After dinner we caught a taxi to the night zoo. It was very busy early. We went to the 9:30 creatures of the night show which is part of your ticket. The show was a little disappointing. I would have thought that there would have been more animals. We then went to the Tram Ride. By this time there was no line which was good. They do have plenty of animals to look at from the Tram.
After the Tram ride we then explored all of the walking tracks and then went out to the Taxi q. It was close to midnight and out of no where all of the Limo taxis turn up. We were lucky to get a normal taxi as we did not want to pay extra for the limo cab. There is also a shuttle for $6 that you can pay for a the desk near the taxis.