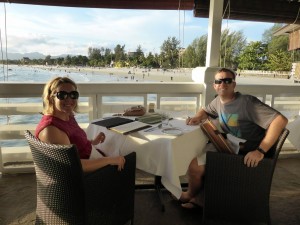 Today we hired a car for 2 days. We started out by driving to the cable car and oriental village. It is located about 2 minutes from our hotel. The cable car is defiantly worth doing. It goes straight up a cliff and has truly amazing views. There is also a large bridge however it is closed due to safety concerns and it does not look like it will reopen in a long time. The jungle around Langkawi is untouched and very thick. Once we grabbed a few photos we headed back down and had a good chat with another couple on a honeymoon that were from Azerbaijan. We did an elephant trek through the jungle which was nice. We then drove to the Andaman resort and on the way were stopped for a Police Check. They just looked in the car and wove us through. We had lunch at the Andaman. They have awesome Frappe's there. This resort is a long way from anything. It is located in a nice bay however it is not looked after as well as the Danna.
We then dropped into a few beaches on the way through the island and grabbed some nice photos. At Pebble beach there were lots of locals having BBQ's etc which was odd considering it was a week day. We stopped at Langkawi Craft Complex which had lots of different things and people manufacturing stuff. We then drove up to Tanjung Rhu Beach and were stopped but a security check however plenty of people just drove around the guy. We had a quick look here and then drove to Durian Perangin Waterfall. There must have not been much rain recently as it was nearly dry.
We are going to do a cooking class tomorrow so we dropped into the place on the way back. There was no one there so we called and booked. When we got back to the hotel we had a swim and some happy hour drinks and then headed out to Cenang Beach for dinner. We decided to go to The Cliff Restaurant Which is located over the water next to a cliff. It was very nice to watch the sun go down over the water. The food was very nice and the staff were very friendly and talkative. We then had a look in some of the stores that sell alcohol etc. Langkawi is tax free and alcohol is dirt cheap. A $40 to $50 bottle at home is about $10 – $15 here. We were going to buy some but we are transiting via Singapore and need to collect our baggage and they do not allow any thing duty free from Malaysia.
On our way back to our hotel we had to dodge a herd of cattle that was on the road. There has been great weather and we are really enjoying Langkawi. Below is a map of where we drove today.